Wednesday, May 13th, 2015
Mark Gomez Update: March Madness, IFWA World Tour Stop #1/ Australian Adventure RecapPhotos & Story: Mark Gomez
Leaving off from my last email update, I have never been so overwhelmed trying to catch up! It all started back in march flying to St. Petersburg for a day to be a panel rider or the Skyway Ski Show, then flying back home to attend the Pismo Beach Spring Break Freeride event, back in the air to fly out to Australia for the 1st round of the IFWA tour, and then straight back home immediately driving out to Lake havasu to qualify for the world finals of jetski racing. Bellow is the summary, photos, and exposure breakdown from each substantial part of these recent travels.
Skyway Ski Show: St. Petersburg, Florida (March 11-12th)
Watercraft superstore invited me out to St. Petersburg, Florida to be one of six guest panel riders/assessors for their Skyway Ski show event. On site there were 6 2015 sit down watercraft. Yamaha, Sea-Doo, and Kawasaki all had their 2 mid line model skis to demo for our assessment. It was a long flight plan from California to Florida to stay no longer than 24 hours. Watercraft Superstore provided great accommodations along with a great experience of riding these 6 new sit-down models around the clear waters and warm weather of St. Petersburg. ProRider Magazine and The watercraft journal were on site taking photos and getting quotes from me as I tested these skis. The main article for the results of this demo will be featured in Watercraft superstore's April-May edition printed "Magalogue" distributed nationwide.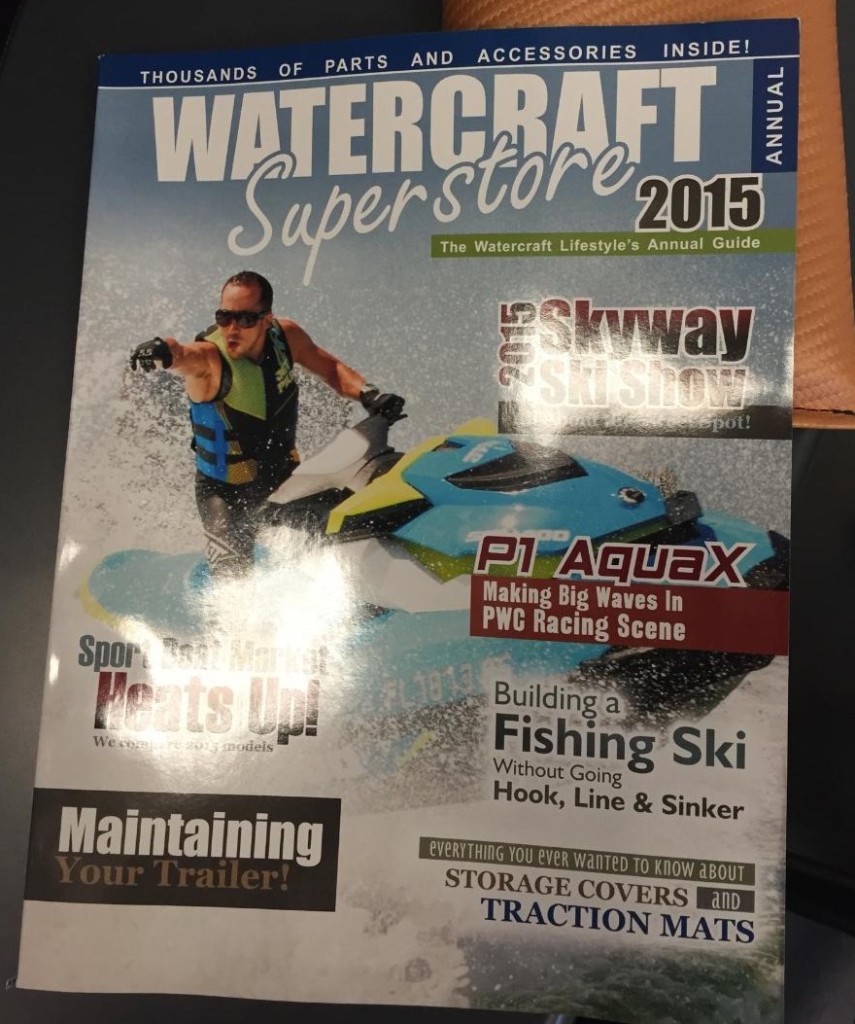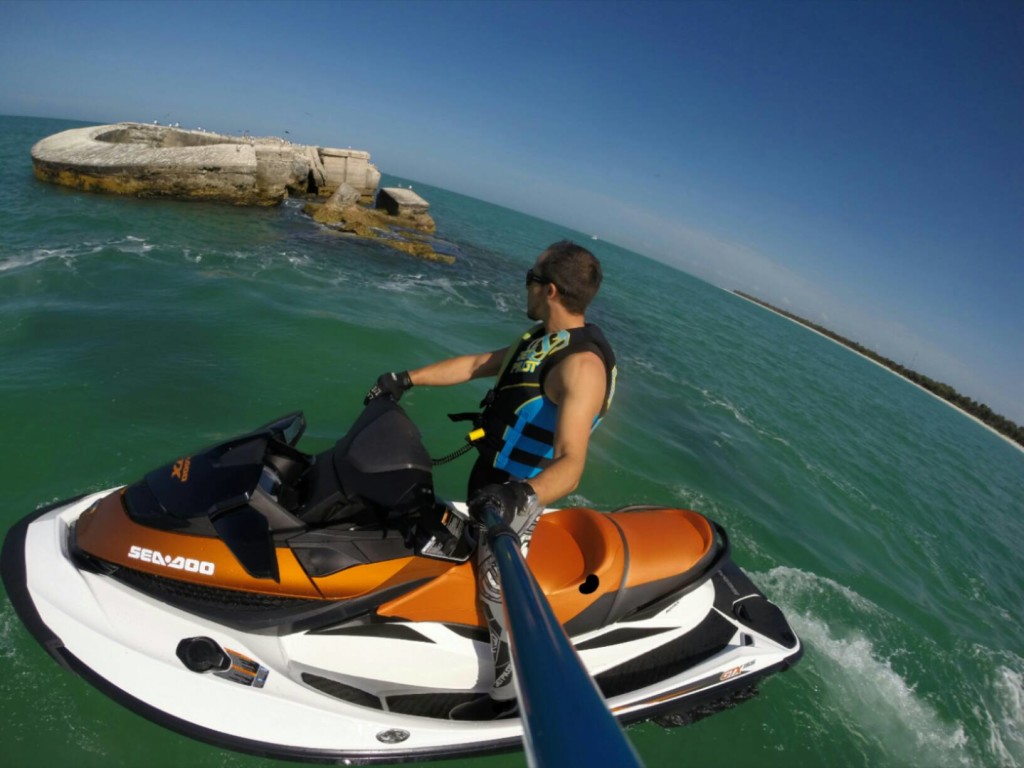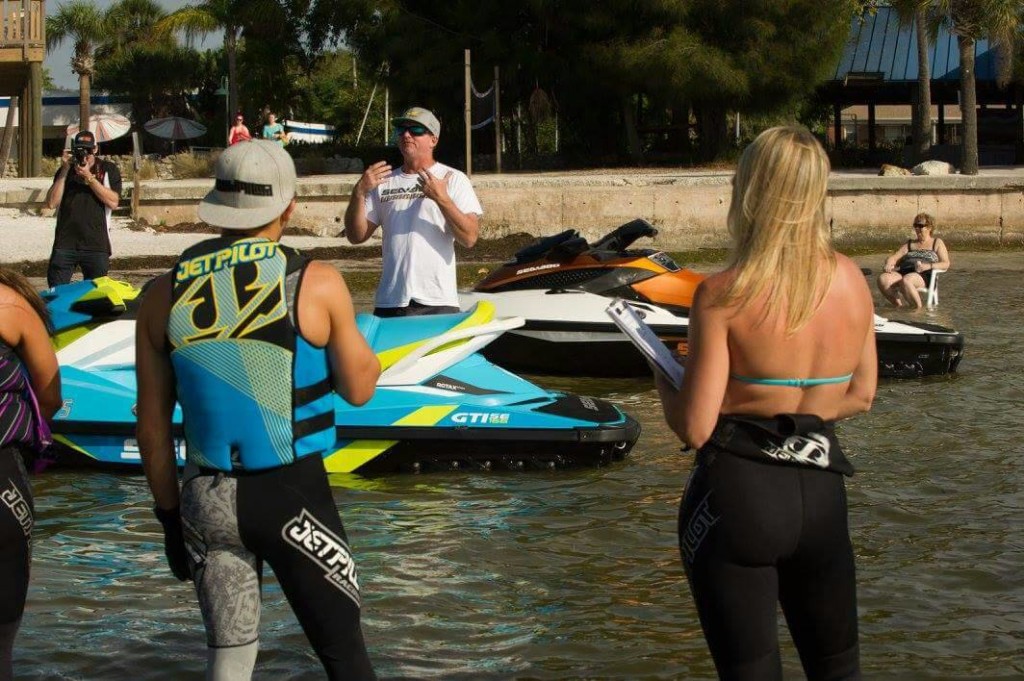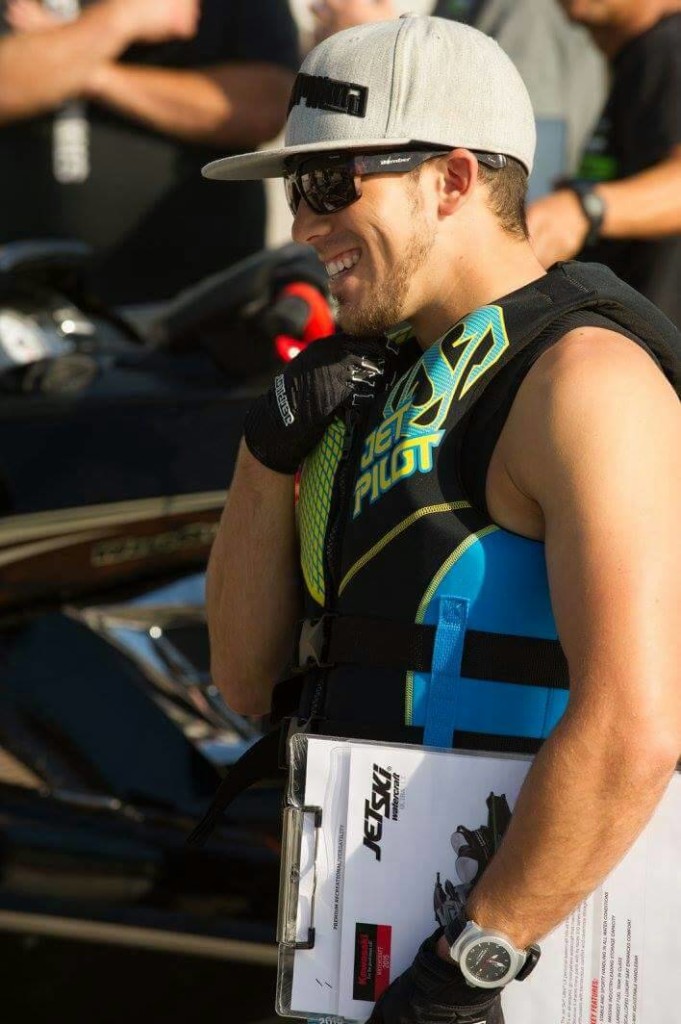 ​
​Private Event Exposure:
-Pro Rider Watercraft Magazine will have a write up in the May/June Issue
-The Watercraft Journal will have an article posted within the next week.
– COVER SHOT: My photo jumping the Sea Doo made the covershot of this new "Magalog" issue. 40,000 copies are getting distributed to dealerships, shops, and subscribed PWC enthusiasts worldwide. (photo included above)
​
Pismo Beach Spring Break Freeride: California (March 13-15th)
Immediately after landing from my day trip to florida. I got into my truck that I had already packed for this timeframe, and set off 200 miles north to Pismo Beach, CA, for the Spring break Freeride event. This is a loosely organized event where anyone who wants to come, can camp or hang out on the beach stretch for the day. They can launch their skis and ride with everyone in the surf break there at the Oceano dunes beach camp grounds. I rode all day to get some last bit of training in before the IFWA contest the following week. There were a lot of great photos from the event and some coverage from the watercraft Journal and ProRider Magazine. The Liquid Militia Freeride team and I personally pitched in and sponsored some food to get the riders attending the event together on Saturday night. There was a large turnout of riders with amazing weather, and as much as I wanted to stay the whole weekend. I had to pack up and leave Sunday morning to get home, unpack, and repack to leave for Australia the next morning!
​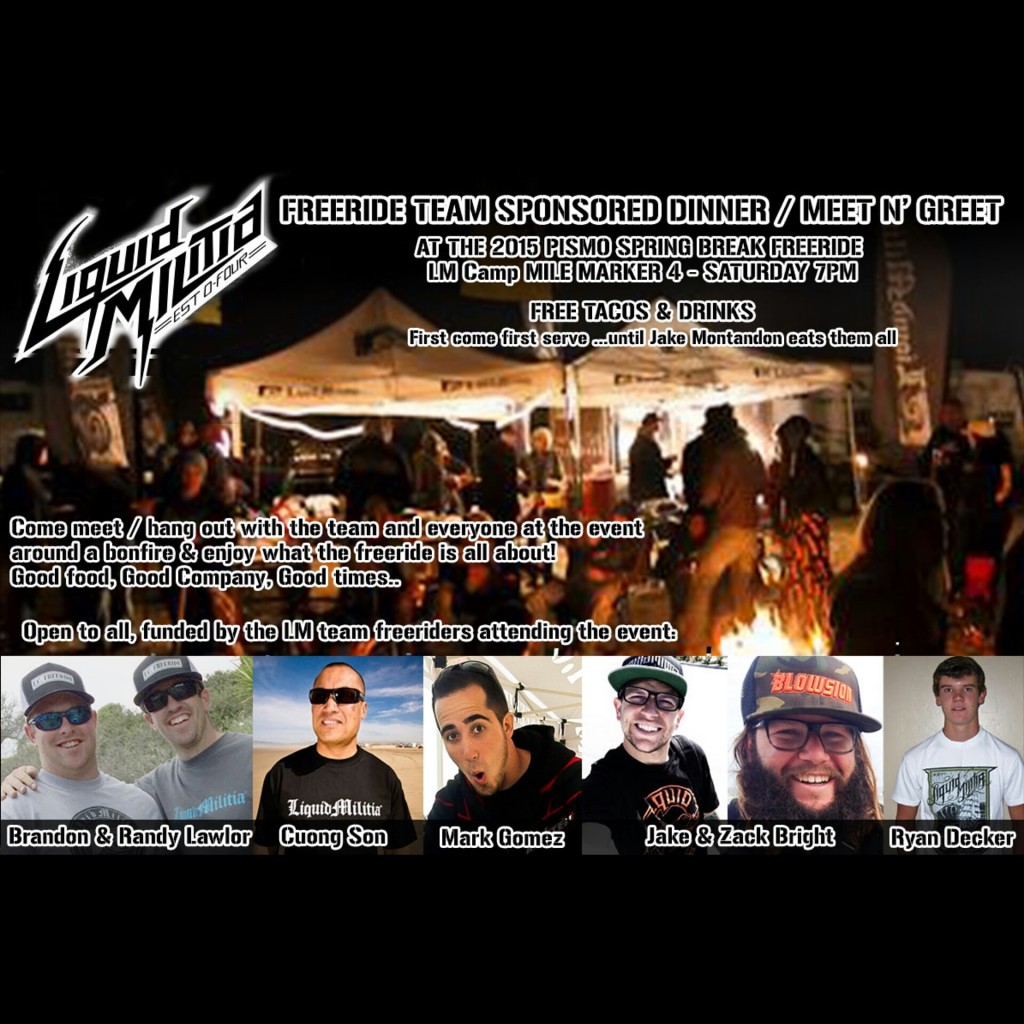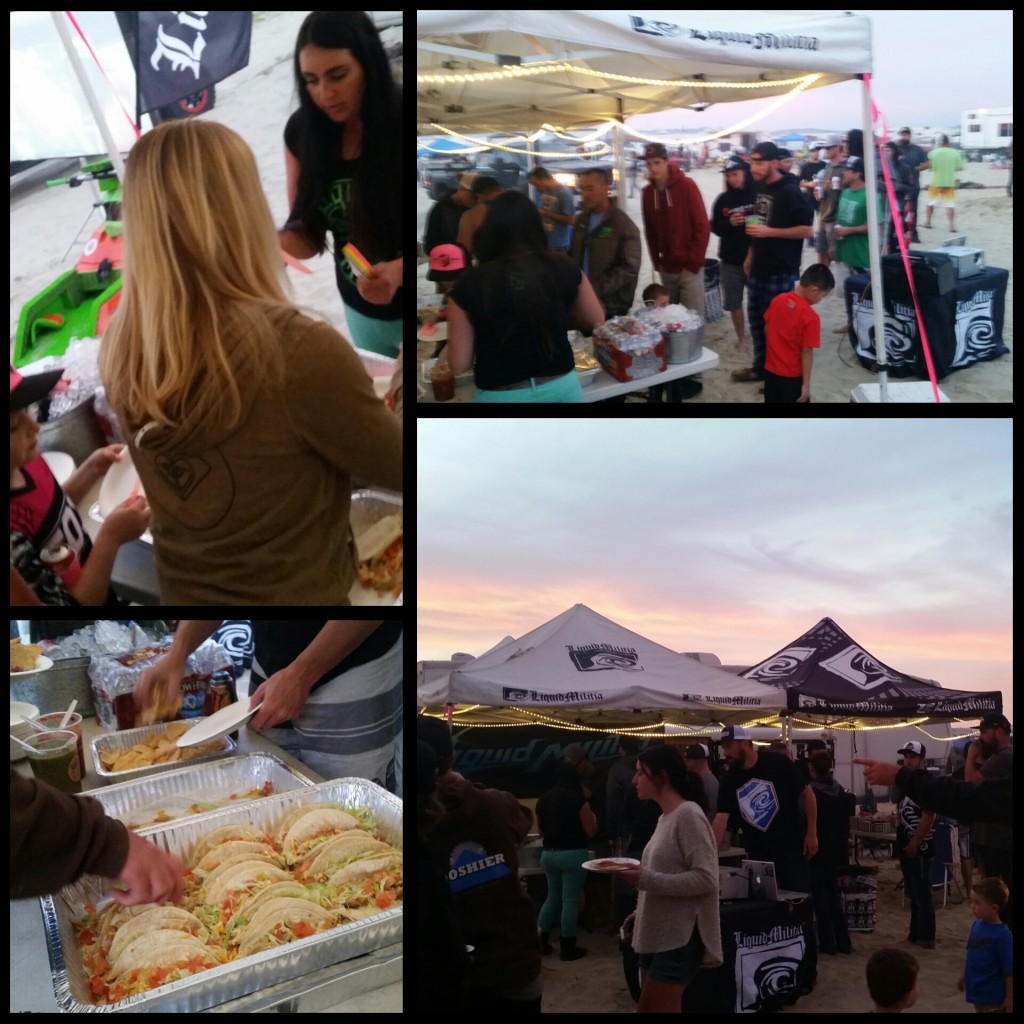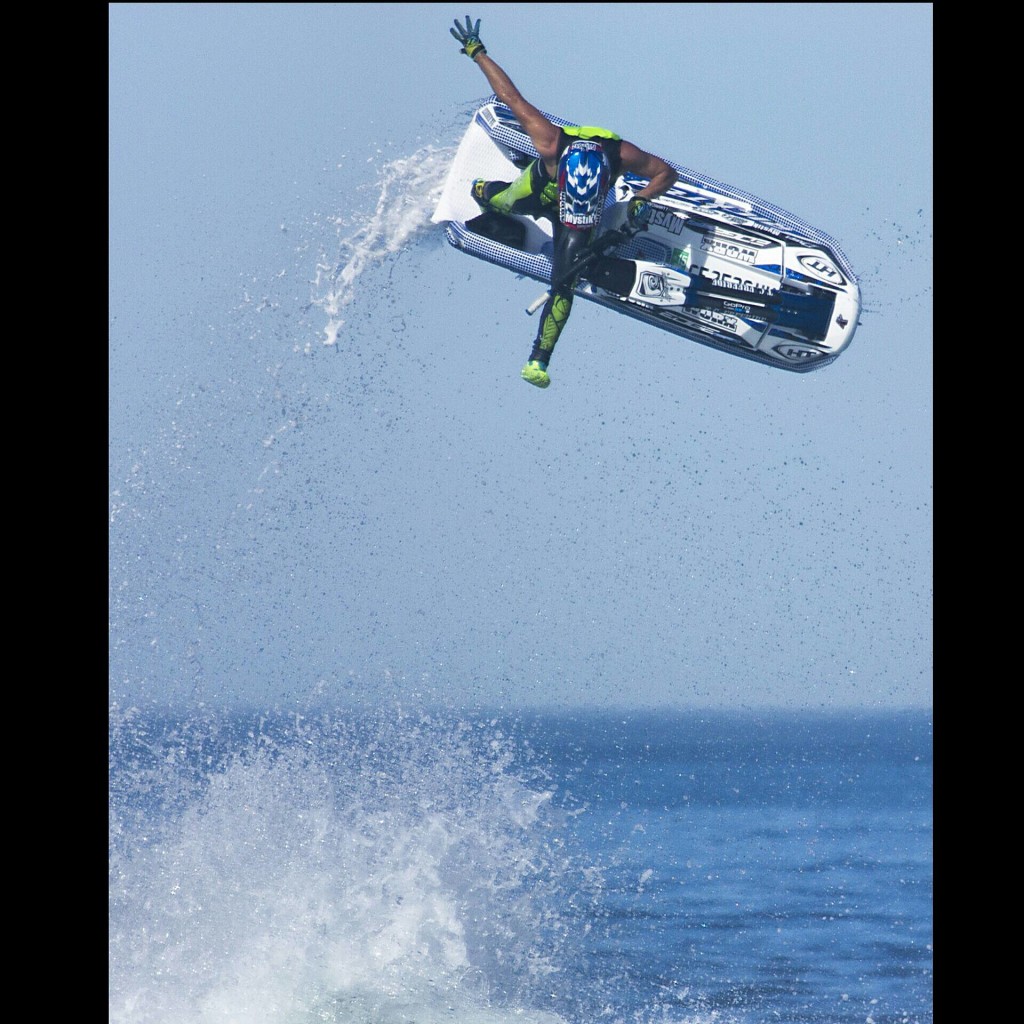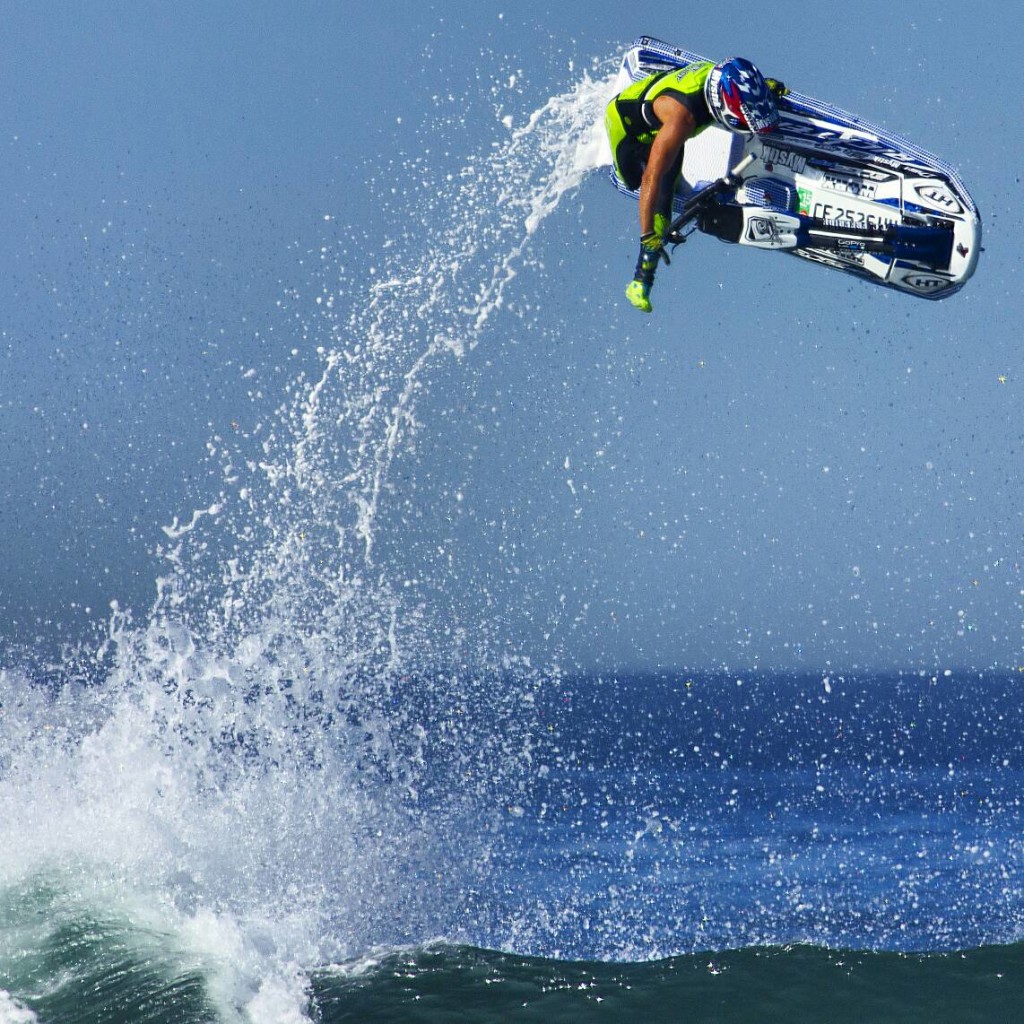 Pismo Freeride Exposure:
Some drone Video footage Produced by Evan Kilkus
The Watercraft Journal – Pismo Spring Freeride 2015 Article
​
AUSTRALIA: (March 16- April 9th)
With the help of Rickter/RRP I was fronted the money to be able to fly out to the Sunshine Coast of Australia. Just barely making my flight from LAX I met up with Zack Bright on the way to our connection in Honolulu, HI. From there it was a party plane, flying from Hawaii to Australia with Brandon Lawlor, Zack, Pete McAfee, and Abraham Ho all on the same flight! Local rider Ben Dayman picked Pete and I up from the airport and drove us to the event site. Ben allowed me to borrow his 1000cc Rickter EDGE that was just about identical to my own at home which really helped me perform at my best ability for the contest. Without his support I would not have had the ability to perform my best that weekend.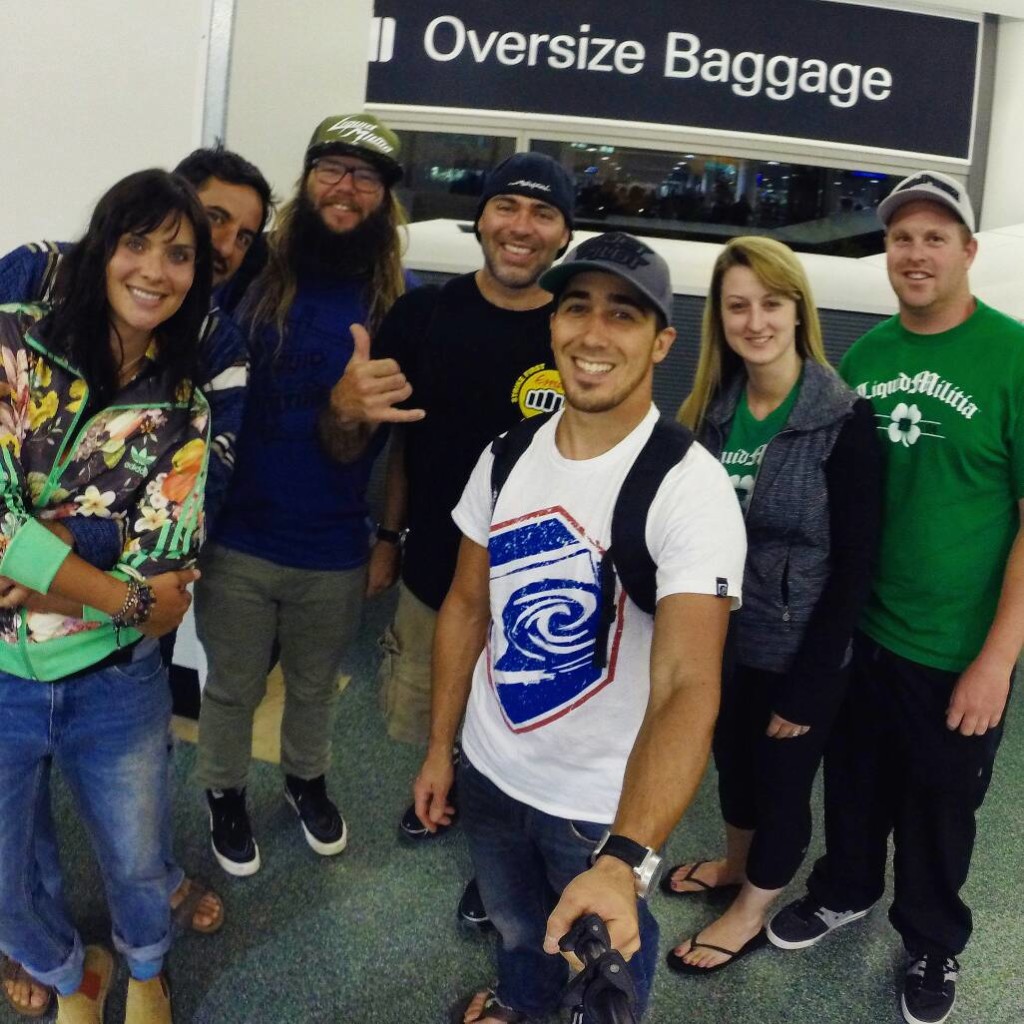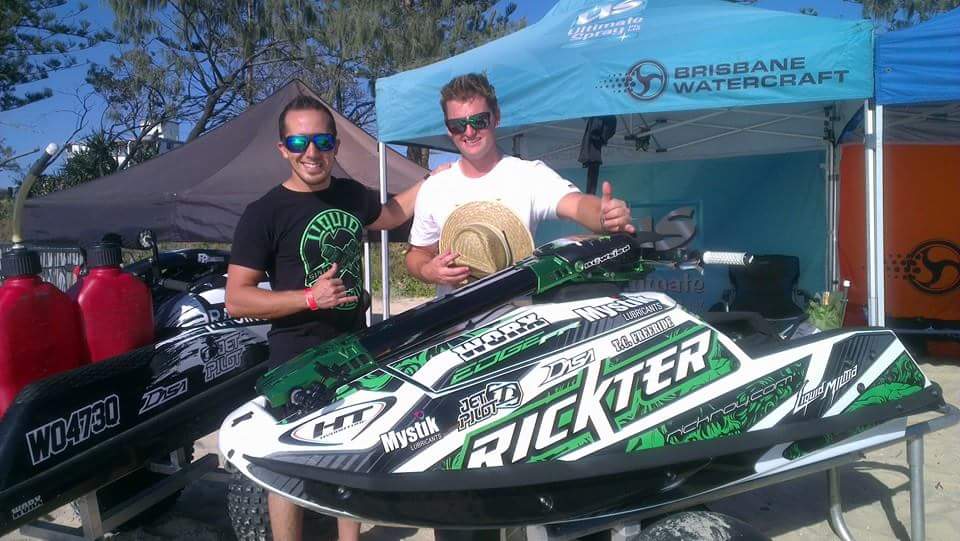 IFWA World Tour Stop #1 Sunshine Coast, Australia: 3rd Place Finish
The contest conditions were very small but had just enough to get us airborne and something to surfride.. most of the time. The event promoters did a fantastic job in the short amount of time, and with the amount of riders that attended. I ended up qualifying first amongst the non pre-seated riders, putting me in a good competitive bracket the next day. Competing in head to head 5-8 minute heats judged 50%surfing 50% Freestyle MX(air). I battled some incredible riders to get to the semi final round VS the 7x world champion Pierre Maxient from france. Pierre and I went back and fourth for 8 minutes in an intense head to head heat. Pierre pulled ahead just at the end of our round by pulling off 3 super flips in incredible small and terrible condition waves. At the end of the day I lost to the world's best rider by one point riding borrowed equipment in small rough conditions. I can't wait to take him on in the coming european rounds! To end the contest I had a tough battle with Abraham Ho for 3rd and 4th place. I did not realize that with all of the stress of the final day I did not eat anything except a small breakfast. I had never been so exhausted in my life in a heat, but managed to come out ahead getting the 3rd place finish for this first tour stop.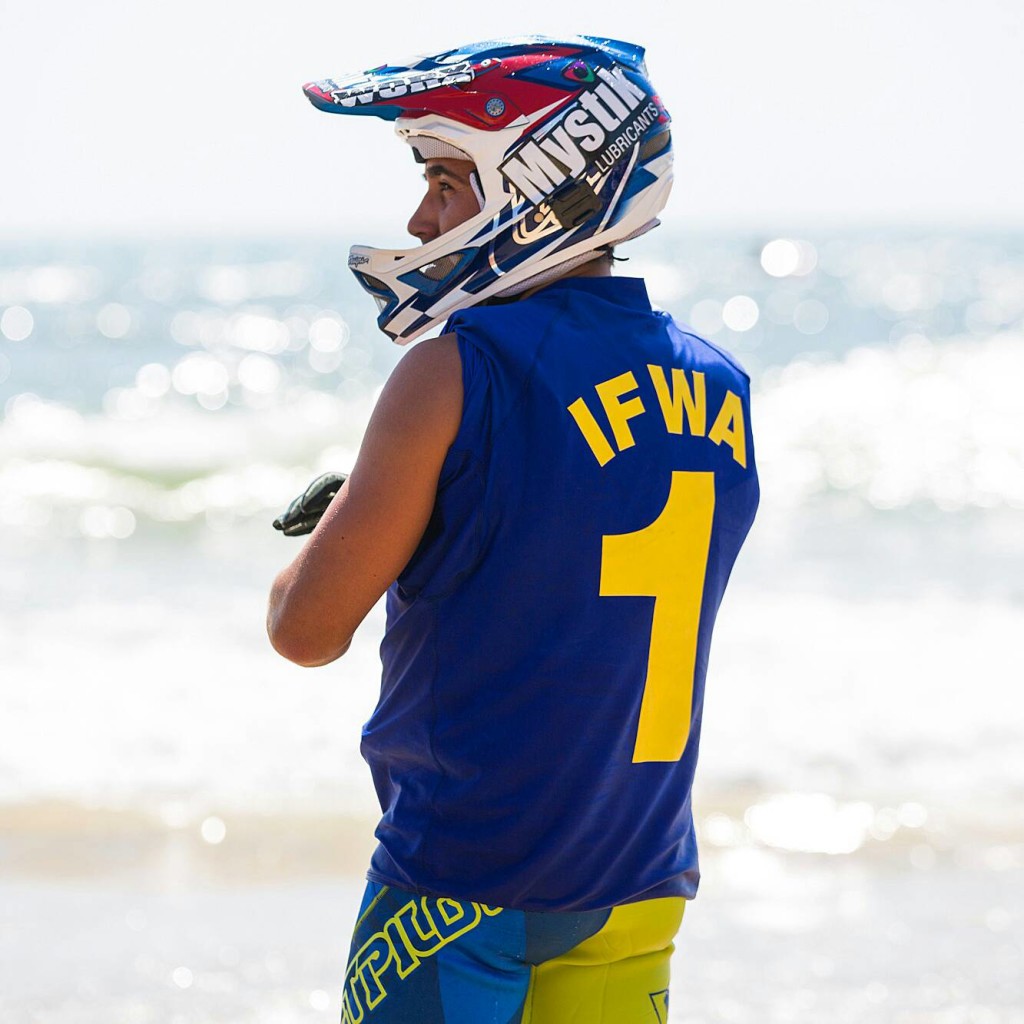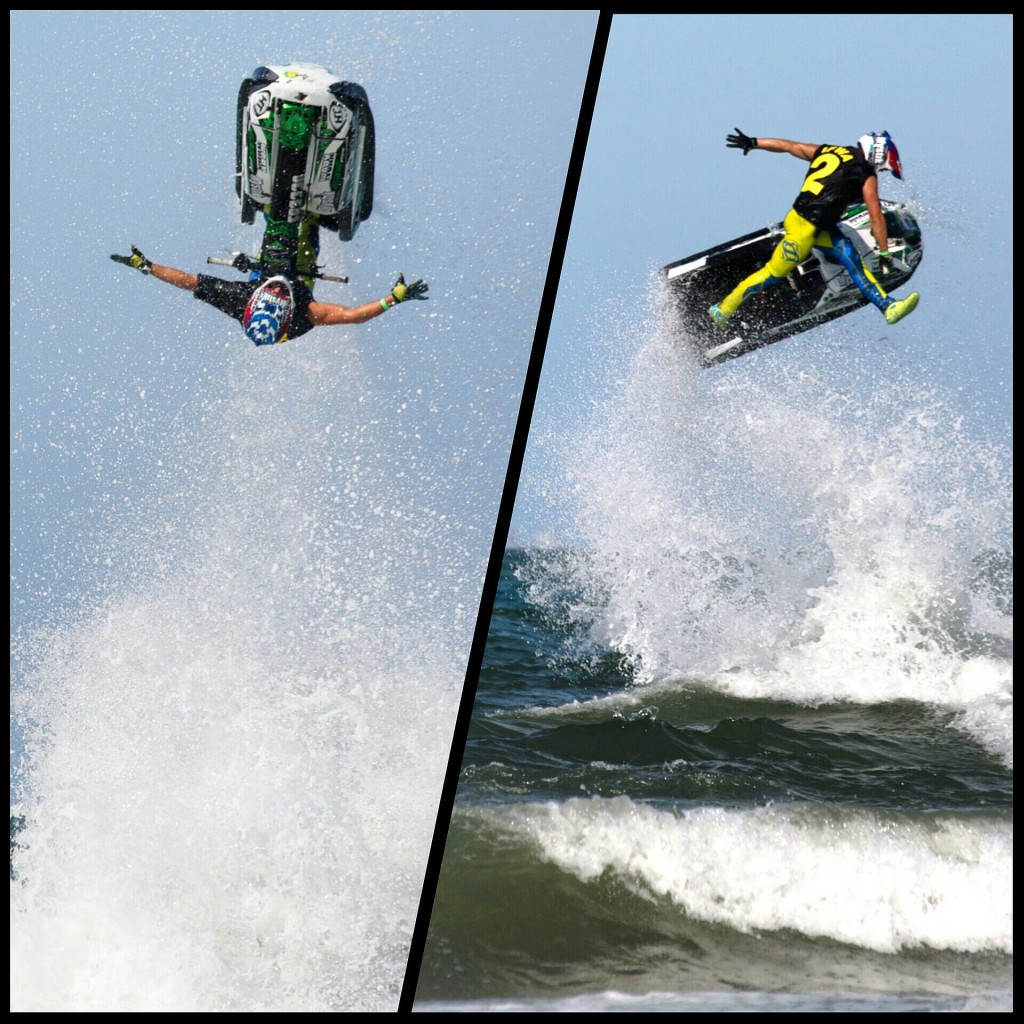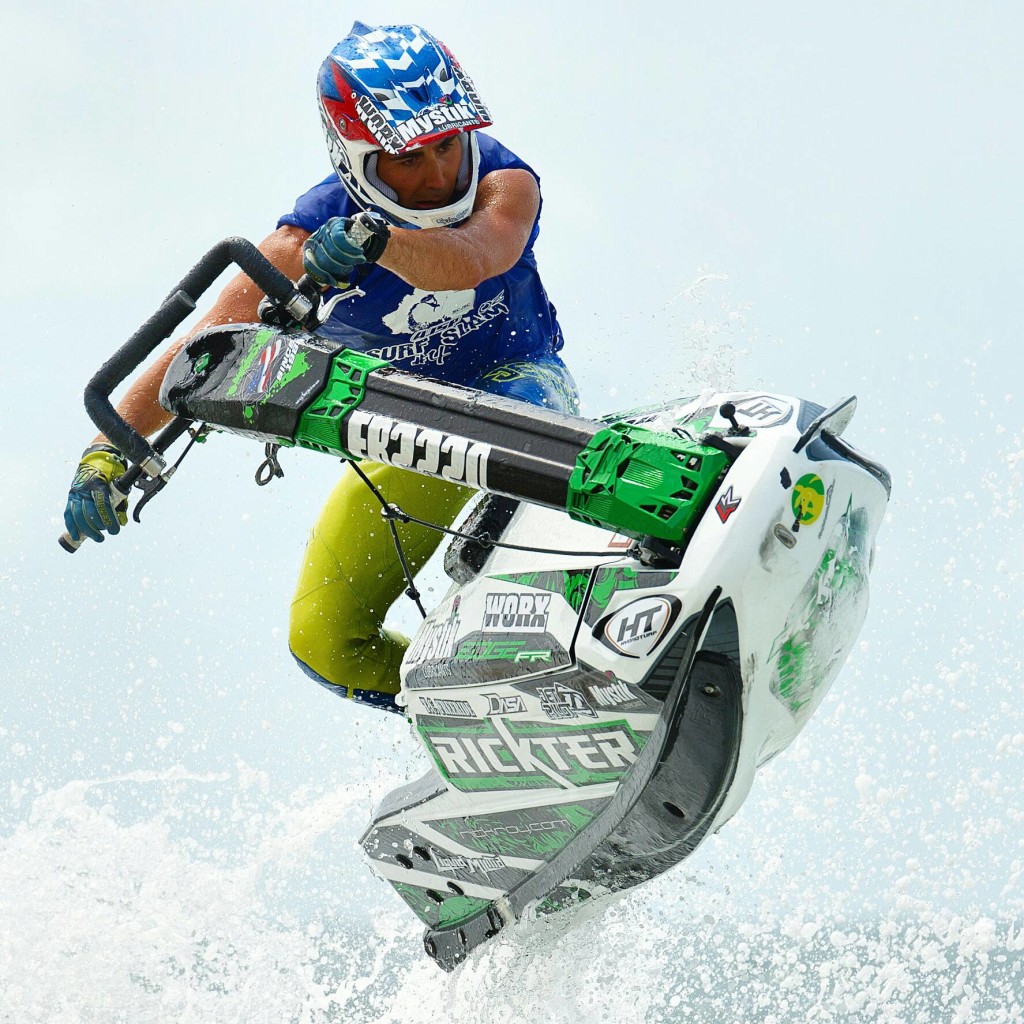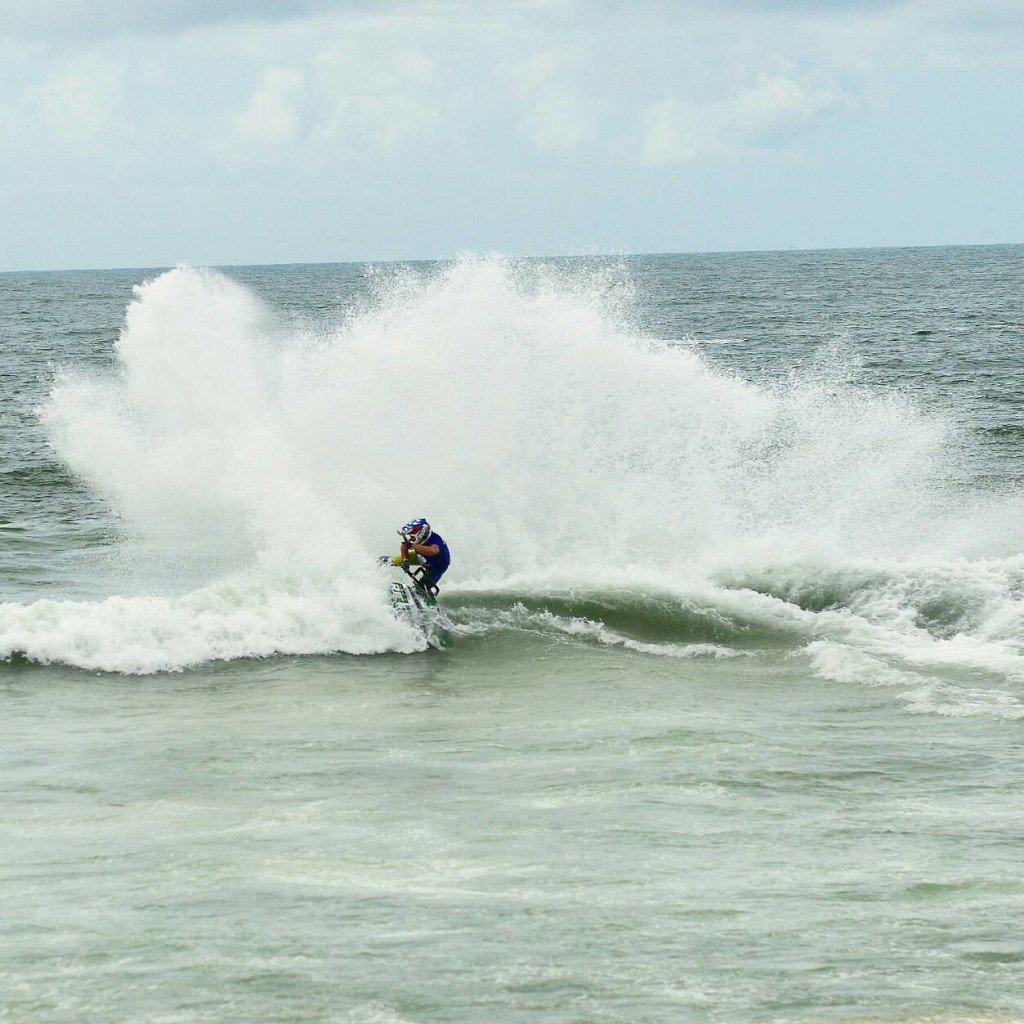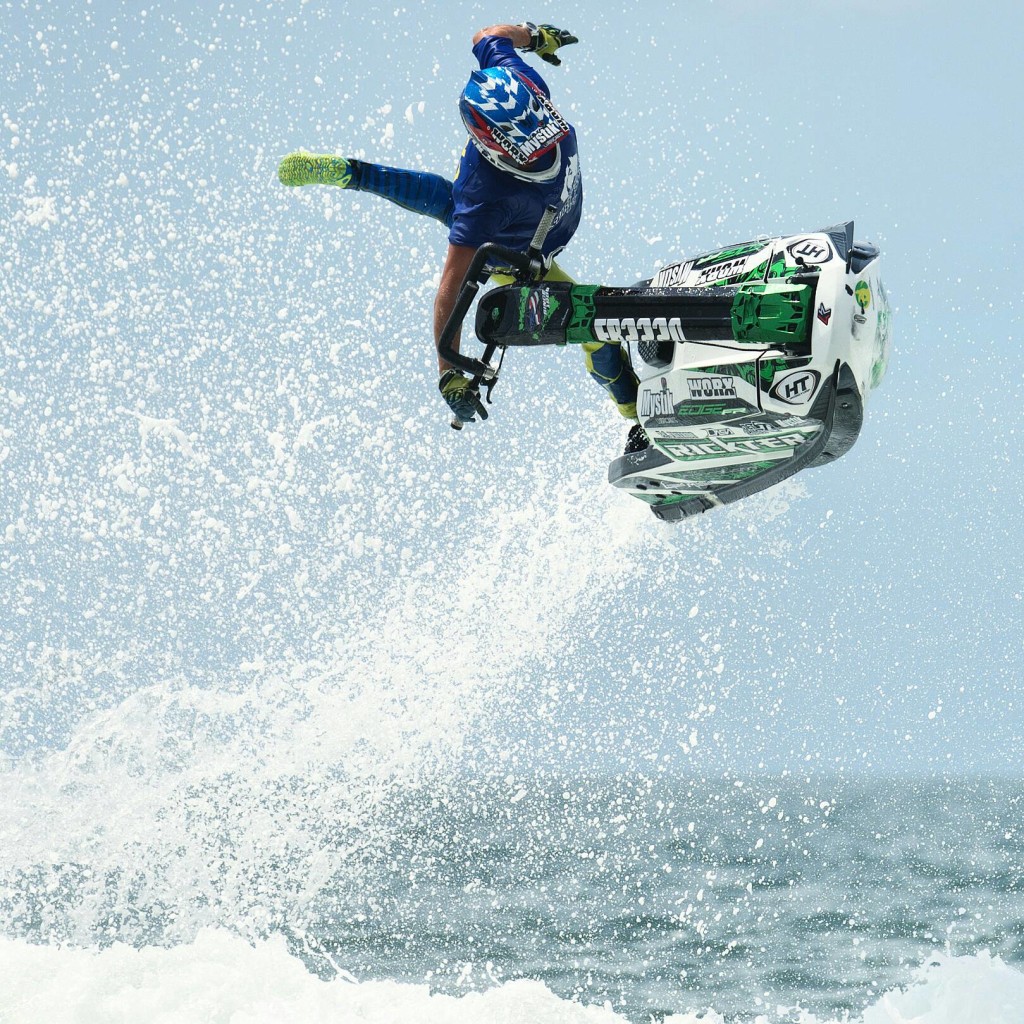 Contest Exposure:
VIDEO: Jetpilot Produced video
VIDEO: Rickter Team World Tour AU
Pro Rider Magazine: Article coming in May/June Print Edition
Watercraft Journal: Article/Gallery
Photos shot by Andrew "Skippy" Donovan
Australia Extended adventure:
Backflip attempt and Barrel Rolls on WORX Sea Doo Spark/ Hanging out with Nitro Circus friends
After a successful demo surfride on the new WORX modified Sea-Doo Spark I was almost positive I could barrel roll and or backflip this new revolutionary production sit down watercraft. With that idea and blessing to do so from Gary Watson of WORX. I extended my flight plan an extra week to further modify the spark with footsteps, and coordinate getting photography and surf aligned. The goal of this production was to not only accomplish a world first, but also hopefully generate some viral internet exposure with its content. The barrel rolls went well.. however the backflip was not as successful and had a costly reset process after learning some more about how the spark handles these extreme situations. On the last day before I left, we set out early to attempt to get the best surf and light for the cameras. Everything showed up to the shoot except for the right size surf. After waiting for over an hour I decided to get a barrel roll on film. Unfortunately, the way that I landed this roll caused the top deck steering brace to snap through, pitching me off the side of the ski unexpectedly with my left foot still strapped in. This resulted in a halt to the production as well as a later diagnosed category 2 lateral left ankle sprain. In the end it was still a blast breaking out of my comfort zone attempting something that hasn't been accomplished for myself and my sponsors. Big thanks again to Gary and Emma at WORX Racing Components for all their support on this trip!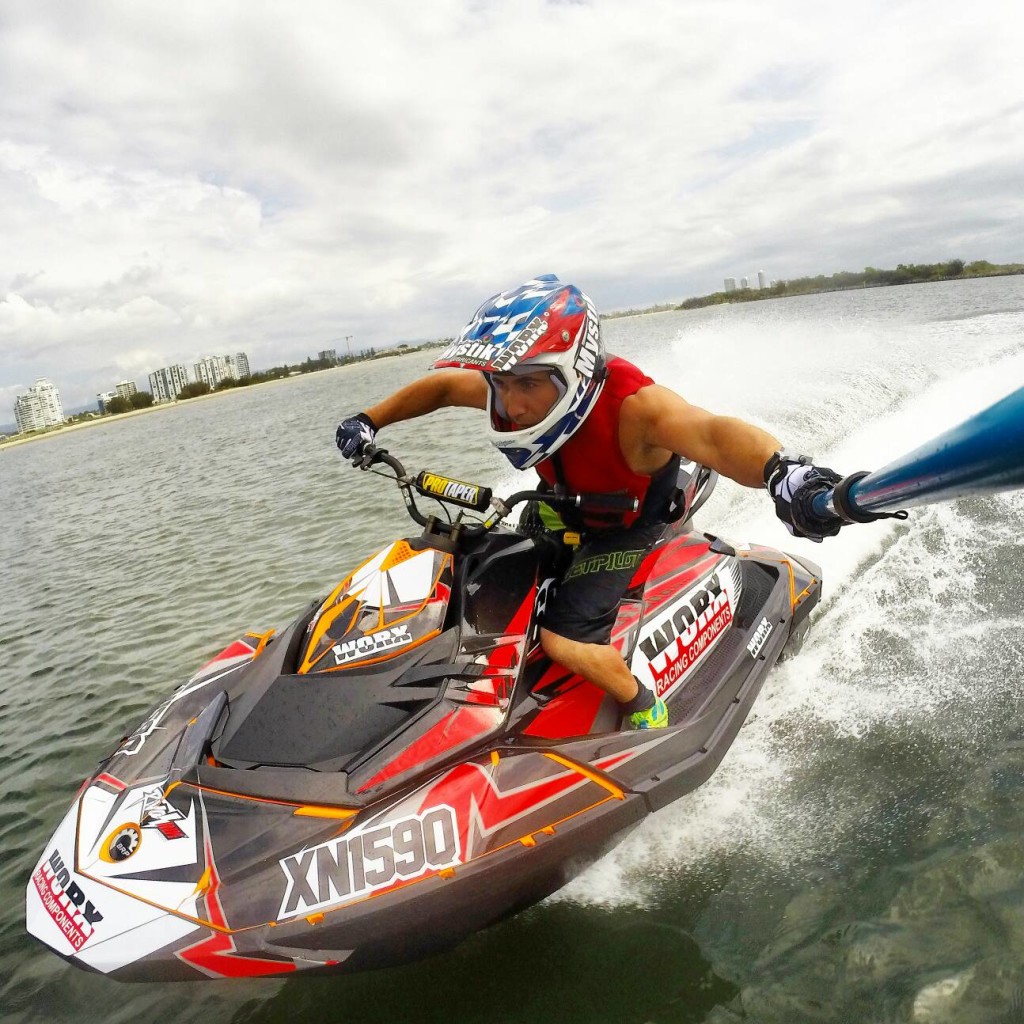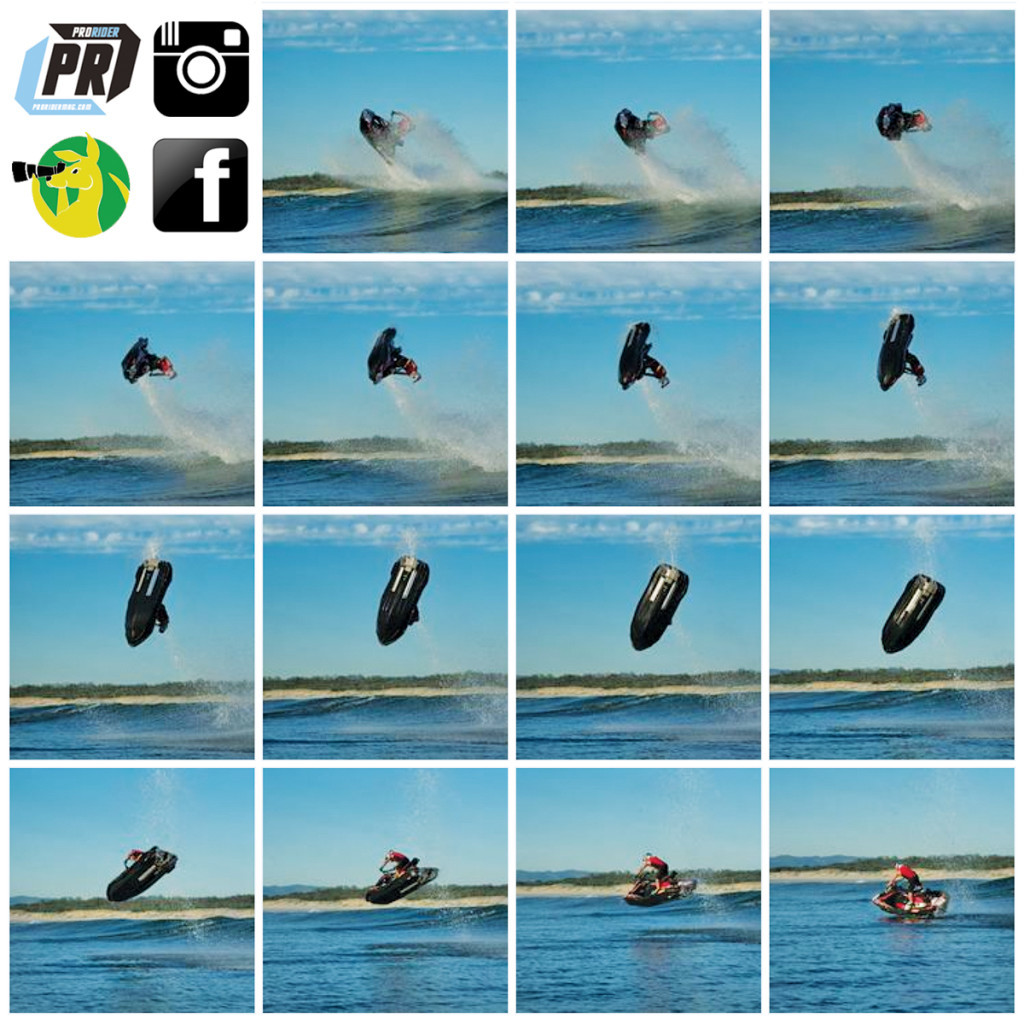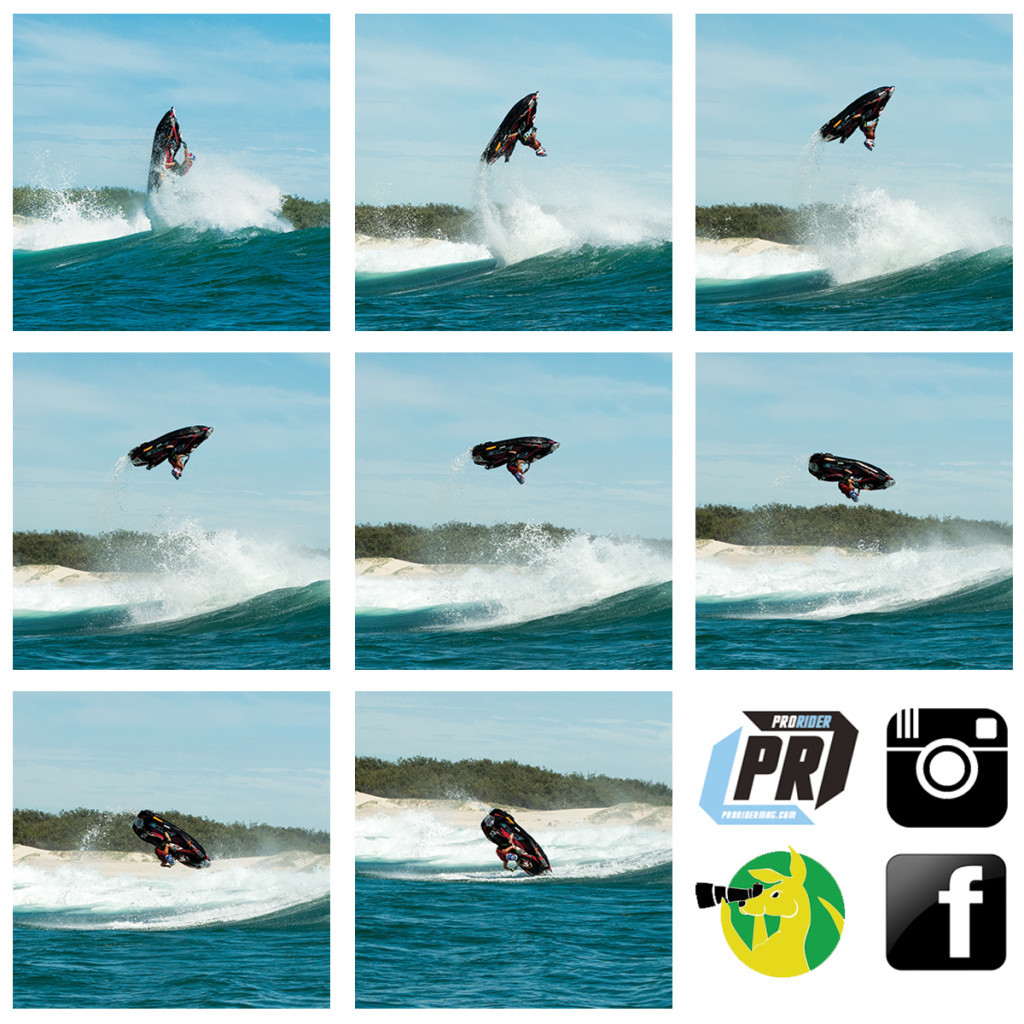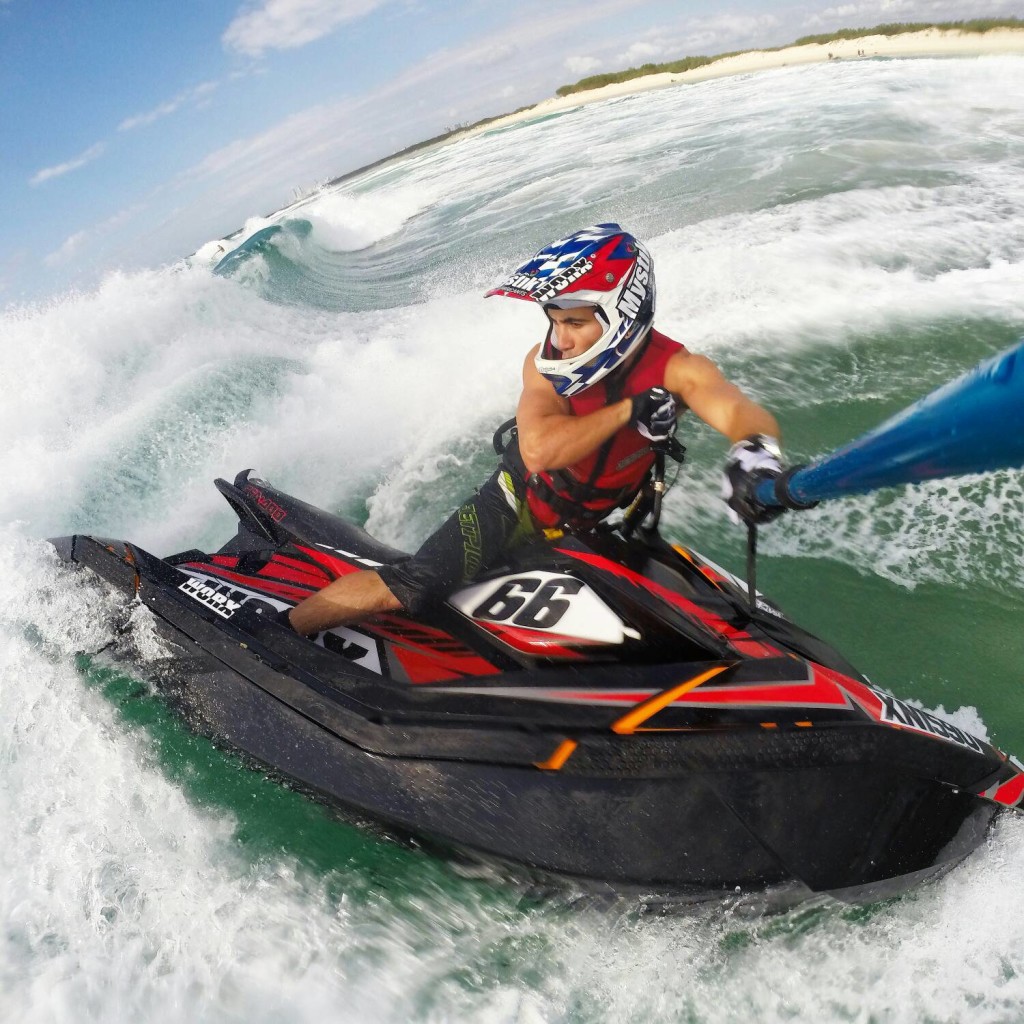 ​Spark Flip Exposure:
VIDEO: Barrel Roll Video on my YouTube Page
The Watercraft Journal Write up / Gallery
Pro Rider Watercraft Magazine Write up
Easter Holiday week in OZ with the Nitro Circus family:
In between and around all of this I was able to link up with my friend Tommy Passemante who most know as "Streetbike Tommy" from the Nitro Circus production. The entire Nitro crew came into town at that time for their upcoming gold coast tour stop. I got to meet a lot of the crew when I attended a little Nitro Easter celebration at Travis and Lyn-Z's. From seeing my first rugby game, watching Fast7 and eating the best burritos in Australia at Wahoo's Burleigh. It was unreal to hang out with such a diverse group of professional athletes and especially for them all to be so cool. I was able to get myself involved in a few videos that were shot during the time, it was just an unreal cool experience overall. I can't thank Tommy enough for opening that door through the Shredder Backflip production back in October​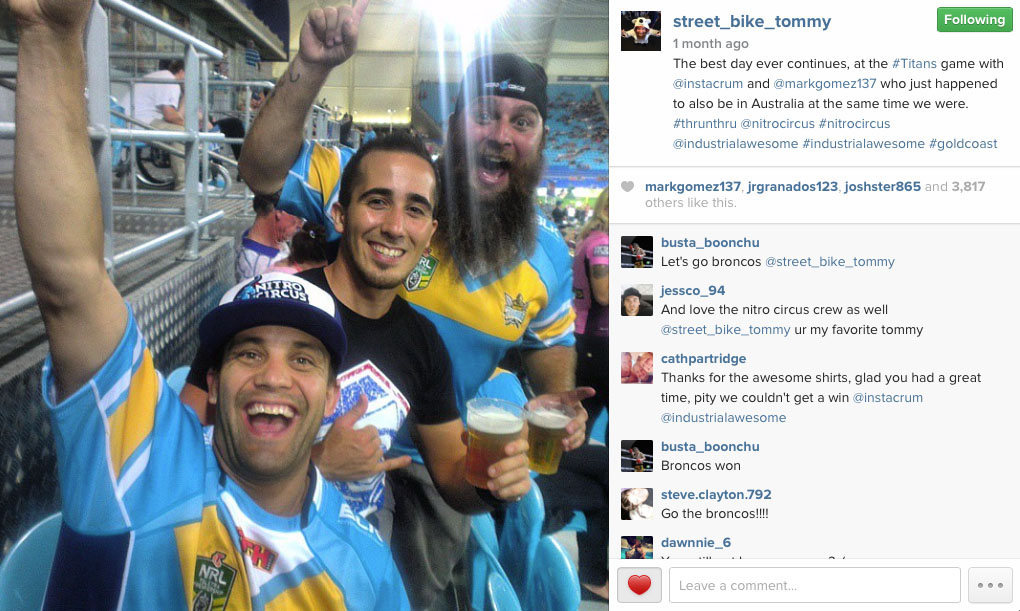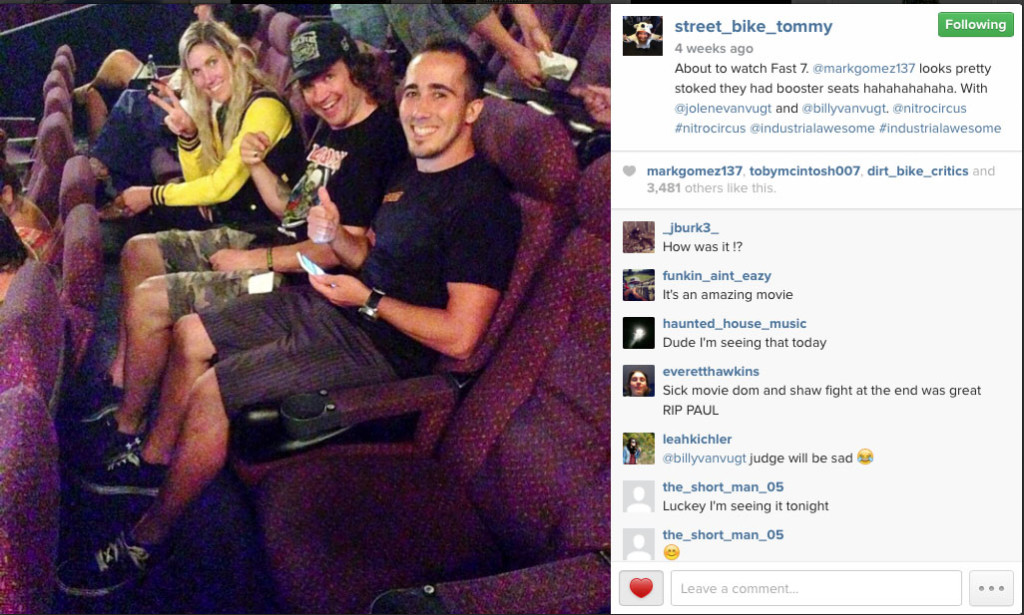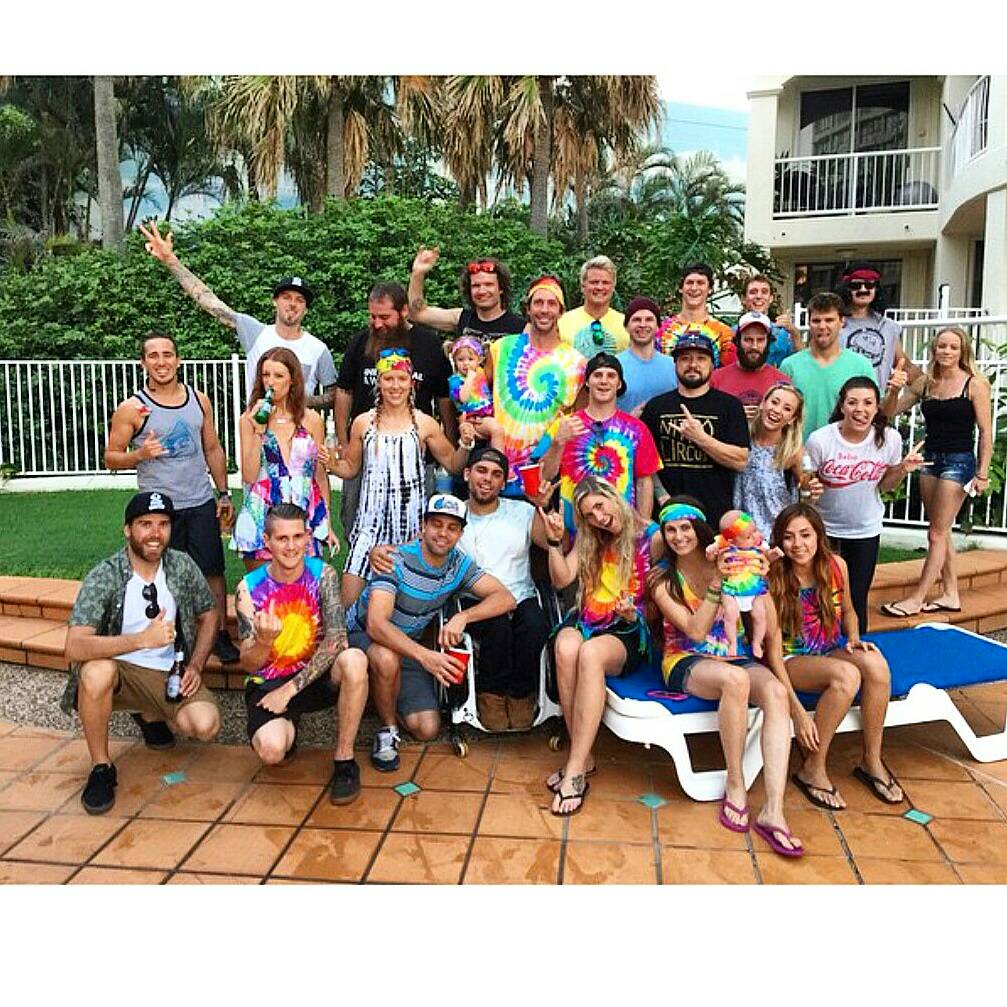 ​Australia to Lake Havasu, AZ: World Finals Race Qualifying (April 10-11th)
Immediately upon arriving at LAX airport, my wingman from Alaska Tanner Thomas picked me up from the terminal. We went straight to my house to rest for a few hours, eat breakfast, load up my Rickter, and head straight out to Lake Havasu. Tanner and I both ride for KMG Racing and went out there to meet up with them to qualify in our classes for the World finals later in the year. With my busy travel schedule, this is the only race I can make it to before the world finals. My ankle was not doing well being still within the 3rd day of its sprain. I was able to ride enough motos both days to get qualified. Tanner got first in freestyle while i helped announce for the freestyle contest. It wasn't a big results weekend for me after all that had happened in OZ. However, the positive outcome was that I am now qualified for the world finals. And I know that I have to heal my ankle as quickly as possible for the European freeride rounds around the corner!
Exposure from the Race:
Video From my Instagram heading to the race
April Ankle Sprain: Sprint to Recovery with Fullerton Physical Therapy
After Havasu I checked myself into the care of MPT Ron Cunningham at Fullerton Physical Therapy. He diagnosed the condition of my left ankle as a category 2 lateral sprain. He immediately put me to work on an aggressive physical rehabilitation program. Between and around work the last few weeks, I have been going to physical therapy every day. It is currently week 3 of my rehabilitation and I am already feeling 60-70 percent better. I am walking around and running normal for the most part, however when my left foot is harnessed in (foothold), and I am swinging from that ankle (flex flip, scarecrow roll, ect.) is where the extra strength recovery is still needed. With their help, I am sure I will have the best chance of competing as close to 100% as I can get for the next 3 European tour stops around the corner. I can't thank Ron, Kyle and the entire staff at Fullerton Physical therapy enough for their help. The recovery is great however being off of my ski to do so before a contest is driving me absolutely crazy.
———————————————————————————-
Coming Up next:
IFWA European Tour: Rounds 2,3,4
Portugal May 23rd-24th
France – May 29th-31st
UK – June 5th-7th
This last excursion has been an absolute rollercoaster ride! Through it all, I can't thank my Family, friends, fellow riders, and 2015 Sponsors enough for their support making this all happen in their own ways.
2015 Sponsors:
Mystik Lubricants
Hydro-Turf
Worx Racing Components
Hot Products
JetPilot
Rickter/RRP
Liquid Militia Clothing
TC Freeride
DASA
GoPro
Cold Fusion
Skat-Trak
Impros
Thrust Innovations
Bomber Floating Eyewear
Blowsion
ADR Crankshaft
JetRenu
KMG Racing
Champion Timepieces
Performance Fiberglass
Pacific Motorsports Brea
Patty's Cakes & Desserts
Offset Development
Fullerton Physical Therapy
Keep up with my progress on social media:
Instagram: @MarkGomez137
Facebook/MarkGomez137